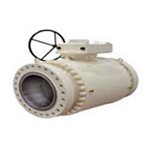 "HP" Manufactures of Ball Valve include the after effect of Innovative designing. It epitomizes all the quality, Performance, esteem and security highlights required for basic applications.
A ball valve is a type of quarter-turn valve which utilizes an empty, punctured and rotating ball to control move through it. It is open when the ball's gap is in accordance with the stream and shut when it is turned 90-degrees by the valve handle. The handle lies level in arrangement with the stream when open, and is opposite to it when shut, making for simple visual affirmation of the valve's status.
Ball valves are tough, performing great after many cycles, and solid, shutting safely even after long stretches of neglect. These qualities settle on them an incredible decision for shutoff and control applications, where they are frequently wanted to doors and globe valves, yet they do not have their fine control in throttling applications.
The ball valve's simplicity of operation, repair, and flexibility loan it to broad modern utilize, supporting weights up to 1000 bar and temperatures up to 752 ?F (400 ?C), contingent upon outline and materials utilized. Sizes regularly extend from 0.2 to 48 inches (0.5 cm to 121 cm). Valve bodies are made of metal, plastic, or metal with clay; skimming balls are frequently chrome covered for toughness.
A few methods for protection or warmth tape in this circumstance will for the most part avert damage. Another alternative for frosty atmospheres is the "solidify tolerant ball valve". This style of ball valve consolidates a stop connect to the side so in case of a stop up, the stop plug bursts (goes about as a conciliatory circle), along these lines making for a simple repair. Presently as opposed to supplanting the entire valve, simply fasten another stop plug.
For the situation that a ball valve is utilized for cryogenics or item that may grow within the ball, there is a vent penetrated into the upstream side of the valve. This is alluded to as a vented ball. Wellbeing is the main concern when designers indicate a vented ball.
---
Ball Valve Operation
Manual Hand Wheel Operated
Pneumatic Cylinder Operated
Electrical Operated
Ball Valve Automation
Mechanical Limit Switches for Position Indication
Solenoid Control Valve for Pneumatic Cylinders
Pneumatic Petitioners for Valve Positioning
Elector Pneumatic Petitioners