Check Valve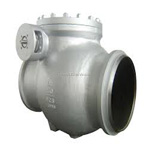 "HP" Check Valve are heavy duty, bolted cover plate with renewable seat ring and body mounted disc swing type are straight through flow which works automatically.
If Opens by the force of pressure and closed by the force of gravity and back pressure.
The Valves are single direction flow and retains flow in opposite direction.
To reduce wear & noise problem size of valves should be select on the basis of flow conditions.
Swing Check Valve Normally Designed for Horizontal instauation.If can also be mounting vertically with flow in upward the disc Swing Check Valve are used for all application.
| | |
| --- | --- |
| | Technical Specification |
---
Size Range
10 MM TO 50MM
Moc
A-105, F-304, F316, F304L, F316L
Pressure Rating
800, 900, 1500 (Bolted Bonnet Design)
900, 1500, (Welded Bonnet Design)
End Connection
Butt weld, Socket Weld
Design Standard
API 600 / BS1414
Testing Standard
BS EN 12266-1
Face To Face
ASME B 16.10
End Connection
Flanged End - ASME B 16.5
Butt Weld End – ASME B 16.25
Pressure – Temperature Chart
ASME B 16.34