Pop Safety Valve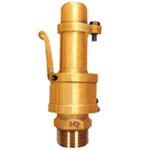 In customary lingual authority the expressions "pop safety valve" are every now and again utilized reciprocally. This is acceptable to the degree that both well-being valves and alleviation valves of the spring-stacked sort are comparative in outer appearance and both fill the board general need of cons training liquid (fluid or vaporous) weights by releasing a percentage of the pressurized fluid or gas. A few powers confine "pop safety valves" to those introduced on boilers, super radiators and let go vessels-all others being delegated help valves. We incline toward, be that as it may, to characterize them quickly as takes after:
Pop Safety valves are for use with gases-which include air and steam. Their design always includes a huddling chamber which utilizes the expansion forces of these gases to affect quick opening (popping) and closing down actions. The difference valves between the opening and closing pressures is termed "blow down"; and for steam safety valves blow down limitations are carefully stated in the A.S.M.E. Power Boiler Code.
Pop Safety Valves are normally used for liquid service, although safety valves may be so used. Ordinarily pop type valve do not have an accentuated huddling chamber Nor a regulator ring for varying or adjusting blow down. They therefore operate with a relatively lazy motion, slowly opening as pressure increases and slowly closing as pressure decreases. Such calming activity bears suitable assurance for vessels or frameworks where there is no requirement for momentary arrival of vast volumes, and where adequate space is given between the configuration weight and the working weight in the framework.
| | |
| --- | --- |
| | Technical Specification |
---
All valves are furnished with plain bolted cap unless otherwise specified.
For set pressures under 10 psig (0.7 kg/cm sq) close bonnet and close cap will be provided.
ASME Section VIII Boiler and Pressure Vessel Code requires that Pop Safety Valves, have lifting levers installed for hot water service over 140 F (600 C).
Corrosive, low and high temperature materials ANSI class 150 inlet flange and open yoke design are available on application details.
Complete bill of materials, cross-sectional view and dimensions can be provided on request.
All flanges are furnished serrated, unless otherwise as per requirement.