Pressure Reducing Valve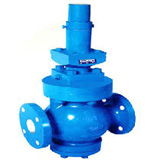 Pressure Reducing Valves :
Pressure Reducing Valve can be most generally utilized as a part of relay operated systems. Our exceptionally planned pressure controllers are known as pressure reducer valve. Control valves that don't utilize helper power source, for example, air and power are called regulating valves. Our creatively composed pressure reduced valve specifically get power from the control framework through weight recognizing intends to impel the valve.
Pretty Cost powerful and easy to use.
Basic and outline makes them simple to introduce.
Requires low maintenance.
Pressure reducing valves can be specially crafted according to particular prerequisites.
WORKING PRESSURE: The working pressure of the vessel is the pressure in pounds per square inch gauge or [Kg/cm2 (g)], to which the vessel is usually subjected in service. in process vessel the working pressure should be less by 10% or 25 psi than the maximum allowable working pressure.
SET PRESSURE: The inlet gauge pressure of a Safety Relief Valve at which the valve pops or starts discharging.
OVER-PRESSURE: Pressure increase over the set pressure of the relief valve is called over- pressure; usually the over-pressure will be either 10% or 25% of the set pressure.
ACCUMULATION: Pressure increase over the maximum allowable working pressure of the vessel during discharge through the pressure relief valve expressed as a percent of that pressure or pounds per square inch is called accumulation.
Many Applications require reduction in pressure at the point of use which beneficial as follows.
Reduction is capital cost of equipment.
Plant costs will be decrease by reducing outlet steam.
in saturated steam application additional rising temperature can be avoided by controlling steam pressure.
Pressure Reducing Valve called as safeguard of pipeline.
Self-actuating, Pilot operated for enhanced accuracy
High Quality Stainless Steel Diaphragm
Suitable for medium & Low, Pressure of Steam, Gas, Air
Pressure Reducing Valves accuracy,1% from full flow 10%
| | |
| --- | --- |
| | Technical Specification |
---
| | |
| --- | --- |
| Size Range | 25mm to 150mm |
| Moc | Cast steel, SS 304,SS 316 |
| Trims | SS 304 |
| Type | Pilot Operated |
| End Connection | Flanged End |
| Pressure Rating | 300 class |