Ball Valve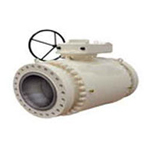 Ball Valve General
'HP' make Ball Valve involve the result of Innovative engineering. It embodies all the quality, Performance, value and safety features required for critical applications.
The ball rotates without moving on the horizontal axis, where as seats are floating and free to move on the same axis. As the pressure increases the force on the seat ring by the pressure pushes towards the ball giving 'BIDIRECTIONAL' sealing.
Thrust due to Fluid Pressure and spring on the upstream and downstream, pushes seat ring towards the ball for positive sealing under all conditions.
When the valve is in closed position, the fluid trapped in the body cavity is subjected to thermal expansion and the valve cavity pressure increases. The excessive pressure buildup within the valve cavity is relieved automatically when the pressure inside exceed the spring load on the seat.
"HP" make Internal Trunnion reduces the chance of fluid leakage to the atmosphere as in the case of external Trunnion Mounted Ball Valve.
---
Ball Valve Operation
Manual Hand Wheel Operated
Pneumatic Cylinder Operated
Electrical Operated
Ball Valve Automation
Mechanical Limit Switches for Position Indication
Solenoid Control Valve for Pneumatic Cylinders
Pneumatic Petitioners for Valve Positioning
Elector Pneumatic Petitioners
| | |
| --- | --- |
| | Technical Specification |
---
Size Ring
25MM TO 600MM
M.O.C
WCB,WC6,WC9, LCB,LC6,CF3,CF3M,CF8,CF8M, Hast Alloy,C&B, Monel, Titanium
Pressure Rating
150#, 300#,600#, 800#, 900#, 1500#
Design Standard
BS 5351.API 6D,ASME B 16.34
Testing Standard
BS 6755-I
Fire Safe Test
API 607,BS675-II
Type
* Single Piece, Two Piece, Three Piece
* Top Entry Ball Valve
* Three Way/Multiport Ball Valve
* Metal Seated Ball Valve
* Fire Safe Design Ball Valve
* Wafer Type Compact Design
* Jacketed Construction
* Flush Bottom Ball Valve
* Valves Under " 'x' ray" Quality
* Trunnion Mounted
End Connection
Screwed, Socked Weld, Flanged, Butt weld
Ball & Stem
SS 304,SS 316, SS304L,SS 316L